PPAI Holds Seventh Annual Legislative Education and Action Day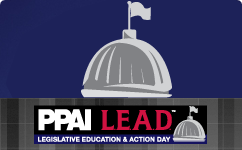 Beginning today, promotional products professionals are in Washington D.C. for Promotional Products Association International's (PPAI) seventh annual Legislative Education and Action Day (L.E.A.D.).
Participants will attend education sessions and go to Capitol Hill, where they will meet with legislators and staff.
"This week marks our seventh annual L.E.A.D. event, and it just gets better every year," said Anne Stone, director of public affairs for PPAI. "Personally, this is one of my favorite weeks of the year—when PPAI hosts 75-plus members in D.C. for a day and a half of face-to-face advocacy on behalf of this industry that has been so good to all of us."
"What could possibly be cooler than having an opportunity to talk to members of Congress and educate them about the issues that are important to our business?" said Larry Whitney, director of global compliance for Polyconcept North America, New Kensington, Pa. "L.E.A.D. is a chance for face-to-face meetings with elected officials and their staff, and [to] educate them about issues that can have major impacts on our organizations. They obviously don't know everything, so this is a fantastic opportunity to help them learn about our industry's needs."
Stone added that promotional products professionals who were unable to attend the event can get involved by checking for emails from PPAI's president and CEO Paul Bellantone. The emails contain links to allow recipients to send emails supporting the issues attendees are addressing in person.
The event continues tomorrow with another trip to Capitol Hill and meetings with legislators and staff.
For more information on PPAI, visit www.ppai.org.
E
Brendan Menapace
Author's page
Brendan Menapace is the senior digital editor for Promo Marketing. While writing and editing stories come naturally to him, writing his own bio does not.