PPEF 2016 Scholarship Period Now Open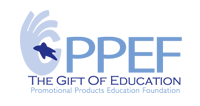 Promotional Products Education Foundation (PPEF), Irving, Texas, announced that the 2016 PPEF scholarship program is taking applications for the 2016-17 school year with $150,000 in scholarships available. Since its inception in 1989, PPEF has awarded approximately $1.4 million in financial assistance.
Funded by Promotional Products Association International (PPAI) and donations from the promotional products industry, the scholarship program enables youth and professionals to continue their education on a collegiate level. PPAI and industry patrons have a long-standing commitment of service to the promotional products industry, and this fund supports those who demonstrate the same commitment.
"PPEF will award $150,000 to 74 new and 29 renewal scholars in 2016," said PPEF chair Patricia Dugan, MAS. "PPEF is proud to have increased our commitment to families with the greatest financial need by changing the structure to award larger payments to need-based recipients. It is wonderful to hear comments from students mentioning that they are the first ones in their families to go to college—truly life changing!"
The submission deadline is March 15, 2016.
Academic scholarships offered:
Four-year Scholarship: $8,000, awarded $2,000 per year, need-based
Four-year Merit Scholarship: $4,000, awarded $1,000 annually for four years
Chairman's Scholarship: $5,000, awarded $2,500 annually for junior and senior years
One-year Scholarship: $2,000, need-based and nonrenewable
One-year Merit Scholarship: $1,000, nonrenewable
Friends of PPMN Scholarship: $1,000, nonrenewable for industry employees only
For more information on PPEF, visit www.ppef.us. For more information on PPAI, visit www.ppai.org.