PPEF Scholarship Awards Climb To $175,000 In 2017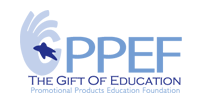 Promotional Products Association International (PPAI), Irving, Texas, today announced the Promotional Products Education Foundation (PPEF) 2017-2018 scholarship recipients.
"PPEF is off to a record-breaking year with the most applications ever received and the most scholarship funds ever awarded," said Lori Bauer, PPEF chair. "The scholarship committee started with 540 applications and narrowed the awards down to 117 recipients. The board is excited to award $175,000 this year. Our scholarships have increased 75 percent since 2013, and this is a direct result of the generosity of industry companies and individuals. So many people have been eager to give back to the industry, and PPEF can't say thank you enough. Together, we are making a huge impact on the next generation."
PPEF is awarding 87 new and 30 renewal scholarships to selected recipients who have displayed remarkable academic achievement, extracurricular participation and community service. Each will be awarded between $1,000 and $8,000 to support their college educations. Since it was founded in 1989, PPEF has awarded more than $1.7 million in financial assistance to 1,013 recipients.
Funded by PPAI and generous donations from companies and individuals within the promotional products industry, the scholarship program enables youth and professionals to continue their education on a collegiate level. The association and industry patrons have a long-standing commitment of service to the promotional products industry and this fund supports those who demonstrate the same commitment.
The full list of 2017 scholarship recipients is available here.
For more information on PPAI, visit www.ppai.org.