Stove Top Launches Greatest Thanksgiving Apparel Promotion Ever
We've got to say, food companies have been bringing the heat lately when it comes to promotional apparel. Last week, Hidden Valley unveiled its holiday merchandise collection, and before that, we had Taco Bell and KFC making waves. But we have to give credit where credit is due, and this Thanksgiving apparel from Stove Top is a true marvel.
Kraft's stuffing brand rolled out its Thanksgiving Dinner Pants, and we are not worthy. In an effort to give wearers the chance to finally meet their Thanksgiving buffet goals, the pants feature a stretchy fabrication and an over-the-belly waistband. Even better, the pants feature images of stuffing and XXL stuffing print pockets, so that you can always keep your eating goals top of mind.
"This is the stuff Thanksgiving is made of and the perfect way to enjoy Thanksgiving dinner in comfort and style," the accompanying Stove Top video announces.
The pants come in sizes S to XL at a price point of $19.98, but unfortunately, as of today, they are all sold out.
We're bummed we didn't get our hands on this genius promotion, so until they come back in stock, we'll just have to take a page out of Joey Tribbiani's book with some maternity pants: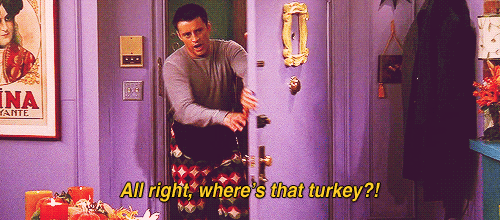 E
Hannah Abrams
Author's page
Hannah Abrams is the senior content editor for Promo Marketing. In her free time, she enjoys coming up with excuses to avoid exercise, visiting her hometown in Los Angeles and rallying for Leonardo DiCaprio to win his first second Academy Award.