The Promo Marketing 2017 Top 50 Suppliers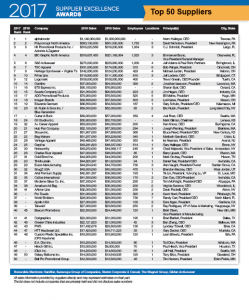 For more than 10 years, Promo Marketing has assessed the most successful promotional products suppliers. The 2017 Top 50 Suppliers list is a comprehensive ranking of the biggest promo companies, ranked by 2016 sales volume. The companies that make up this year's Top 50 Suppliers list totaled more than $4.9 billion in revenue, with the No. 1 supplier accounting for nearly a quarter of that.
There were a few new additions to the top 10, and several companies that did not appear on last year's list were ranked inside the top 50 this year. Thirty-five of the top 50 saw increased promotional products sales compared to last year, including eight of the top 10 suppliers. Please note that several suppliers opted not to report results for this list. Rather than estimate sales, we listed these suppliers as honorable mentions based on their ranking in prior installments of this list.
In addition to 2016 promotional products sales volume, the list includes:
• 2015 sales volume
• Location and principal(s)
• Prior year rank
• Number of employees and locations
Register below to download a PDF of the full 2017 Top 50 Suppliers list. Once registered, check out our other free, downloadable resources: 2017 Top 50 Distributors and Case Studies Vol. 1: Get Inspired With 10 Great Promo Ideas.